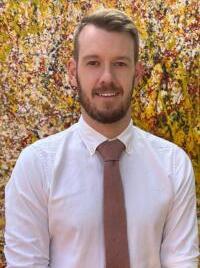 Dean Osborne-Coulson
Position:
Teacher/Mentor Year 8 and Secondary Art Teacher
Qualifications:
- BA Honours (Bachelor of Arts, Humanities and Social Sciences) Mixed Media Fine Art from University of Westminster. - PGCE (Post Graduate Certificate of Education) Art Secondary from Goldsmiths, University of London. - NPQ (National Professional Qualification) Leading Teaching from Ambition Institute.
I have over 12 years of teaching experience. I have worked in a variety of London schools as an Arts Teacher, Mentor and Head of Department. During my many years of working in school, I have taught a variety of specialist disciplines within the Arts including; Fine Art, Photography, Textiles and Graphic Communication at both GCSE (General Certificate of Secondary Education) and A Level. My role is to break down complex and exciting Art practices for our students to understand and enjoy. I always try my best to visit Art exhibitions at museums and galleries when I travel and in the city I am living, keeping myself up to date on exciting developments in the Art world. I love to travel and explore new places and cultures. I have visited Rio before and look forward to exploring more of what Brazil has to offer while I am here. I love netball, like basketball, but you can not move with the ball. I have had the opportunity to play 3 international teams - Wales, Northern Ireland and Jamaica. Looking forward to transitioning to volleyball here in Brazil.